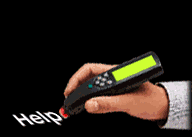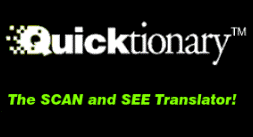 - About Quicktionary - Product Lines - Technical Data - Order - Home -
LEARN ABOUT THE NEW QUICKTIONARY II
Ideal for students, teachers,

business people, homeworkers

and travelers.

Take the Quicktionary

with you wherever you go!
Here are a few features:
Scans and automatically displays translation.

Contains over 430,000 words and idioms.
Reads multiple fonts and type sizes.
Switches instantly between native and foreign languages.
Use the included "OptiCard" to optically spell words that are inconvenient to scan.

Just glide Quicktionary optical scanner over a word to automatically translate it. The scanned word immediately appears on the display next to its most common translation along with additional translations, idioms and phrases. Quicktionary recognizes over 400,000 words and expressions, and can instantly switch from language to language while reading a wide range of fonts of various sizes. It's that simple!

For left or right hand users.
Maximum number of characters in scanned sequence: 32
Display contrast, letter and background color control for easy viewing.
Store and retrieve the last 75 words translated.
Screen size: 122 x 32 pixels (20 characters x 3 lines).
Scanner resolution: 300 DPI
Size of letters capable of scanning: 8-14 points
Capable of scanning almost all common fonts including italic, bold and underline.
Scan words up to 2" (5 cm) in length.
Scanning speed:1.5" (40 mm)per second.
Translation speed: 2-5 seconds.
3 AAA alkaline batteries required.
Battery lifetime approximately 3,000 scans, depending on length of scan.
Automatic shut-off option saves battery life.
Dimensions: Length (with cover): 6" (163mm) Width: 1.5" (36mm) Height: 1" (24mm) Weight: 3.2 oz ( 90 grams) without batteries.
- About Quicktionary - Product Lines - Technical Data - Order - Home -