iSun BattPak™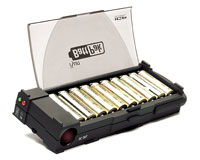 The BattPak™ is both a quick-charger and power source all in one. It meets the charging requirements of those needing to charge rechargeable batteries by offering multiple charging options including AC, DC and Solar. It's also ideal for people who need power for small electronic items but can't connect to a power source when needed.

Battery Charger: The only charger with AC, DC and solar charging capabilities so you can charge batteries at home, in your vehicle or wherever the sun shines. It charges up to 10 AA or AAA in as little as 4 hours.

Power Source: It can also power small electronics. Just leave the fully charged batteries in the BattPak™ to power cell phones, PDAs, flashlights and GPS devices.


General Specifications
Model Number: 22001
Dimensions: 7.5" x 3" x 1.25" / 190 mm x 75 mm x 30 mm
Weight: 0.4 lbs / 181 g
Temperature Range: -40ºF to 176ºF / -40ºC to 80ºC
Warranty: 2 years